"Tree Eater" video premiere
10/17/2015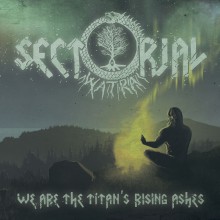 We Are The Titan's Rising Ashes
2015, Noizr Prods..
Our debut music video for the song "Tree Eater" from the latest album "We Are The Titan's Rising Ashes".
Filming took place during the night of September 19-20 in the woods, not far from Kyiv. Directed by Alex Katerynchuk.
---
The idea to shoot a video for the new album's track has been growing in our thoughts for a long time. Our friend, fellow musician, as well as a wonderful cameraman and director Alex Katerynchuk helped us to implement it. We shared him our ideas and described what we want to get as a result — and the process started. Alex has assembled a team of high level professionals: from the operator, operator assistant, lighting technicians, make-up artist and assistants on set.
We also got help from our friends and family — from organizational issues to physical hard work of moving equipment and props. We would like to express our gratitude to all involved people — thanks, without you this extremely important event would not have happened.
From the beginning, we had a goal to shoot video on nature, the song had to be a dynamic and "groove" ourselves, without annoying. "Tree Eater" perfectly fit that description.The filming process was held for us in one breath, it was a wonderful experience.