Krvestreb Fanzine, Turkey
08/19/2013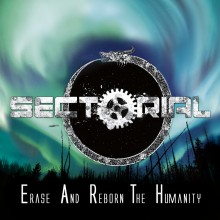 Erase And Reborn The Humanity
2012, Metal Scrap Records.
Sectorial "Erase and Reborn the Humanity" "CD" "23 Tracks" "Metal Scrap Rec." "Ukranie"
Band Members; Ivan Kozakevych – Vocals, Dmytro Vashchenko – Guitars, Vocals, Boris Krivous – Bass and Igor Kovalenko – Drums. The first operation of the group (Ep) "Cerebrum It In Necrosis Est Nobis" in 2009, the second Ep "Boiler" and in the same year, the third Ep "Controlled Insane" off their debut album which was released in 2012 that their. Grindcore Styles. According pieces stolen sounds good, fast, technical drums, aggressive vocals, dynamic, finishing, raw Grindcore rhythms on the board. Sound as a Napalm Death – Lock Up – to Nasum. Pure Grindcore albums, tracks energy, transitions, Arrangements, cover design, the recording quality is pretty well prepared. Consists of 23 pieces of short but devastating accordance with Parts Grindcore property. Folkloric music using melodies, melodies December Flut added color. The album also Phobia – Rise Up! There are cover. I recommend listening to the fans love this style, Grindfuckingcore …
Favorite Tracks:
Cage With No Limits
&
Too Much?
&
Passing By
&
The Unknown
&
Internal Enemy
&
Why Are You Killing Yourself?
&
Thy New Horizon
&
The Policy
Sectorial contact: facebook.com/sectorialUA
Metal Scrap Rec. contact: metalscrap.org.ua