Lords of Metal, Netherlands [71/100]
06/01/2012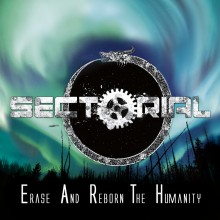 Erase And Reborn The Humanity
2012, Metal Scrap Records.
Koen: Sectorial is een Oekrainse groep die als sinds het jaar 2000 meedraait, maar zichzelf pas in 2007 een beetje serieus begon te nemen. Tot nog toe werden er drie eigen beheer EP's uitgebracht: 'Cerebrum Necrosis Est In It Nobis' (2008), 'Boiler' (2009) en 'Controlled Insane' (2009). Nu debuteert de groep met 'Erase And Reborn The Humanity' via Metal Scrap Records. Misschien ken je het label reeds van releases van Crusher, Voice Of Midnight, Ram-Page, maar misschien ook niet.
'E.A.R.T.H.' is een no-nonsense verfrissend death metal album geworden dat 22 eigen composities bevat plus een cover van Phobia's 'Rise Up!' Dit is grindcore met een creepy emotieloze draai die me meermaals deed denken aan Brutal Truth's 'Extreme Conditions…' en Impaled Nazarene's 'Ugra Karma' CD's. Ik geloof dat er slechtere referenties te verzinnen zijn. De kers op de Sectoriale slagroom is echter de integratie van een fluit of panfluit in hun muziek en daar moet je van houden. Ik persoonlijk walg er van maar Gheorge Zamfir fans mogen met een gerust hart 25 punten bij het eindcijfer optellen. Origineel is het in elk geval wel!
Score: 71/100 (toelichting)