Sectorial comment their new album: "It's a mature and an adult work"
06/12/2015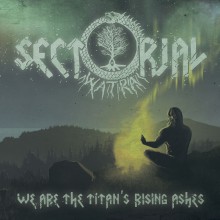 We Are The Titan's Rising Ashes
2015, Noizr Prods..
In anticipation of the second full-length album "W.A.T.R.A." ("We Are The Titan's Rising Ashes") coming out, Sectorial's musicians told Noizr Zine about their new release, collaboration with Morton Studio, the role of folk instruments in music composing and much more.

We've worked long three years on this album, invented and reworked the songs
Some tracks have been written on tour with the French band Infest in 2012, others have taken their final form just before the studio sessions.
We chose Max Morton's studio because we were impressed by his work with other musicians
Max offered us a good recording conditions and in the working process he gave a good account of himself not only as an excellent professional, but also as an extremely pleasant man, a real master of his craft. The album tracking has begun in the fall, and its' first step was to record the drums. The guitars, vocals and ethnic instrument parts were the next — so within two months recording session was over.
The whole tracking process proceeded in a pleasant and friendly atmosphere, which had a positive impact on the material's quality

Max gave good advice, we spoke openly what we want from cooperation with him. The result was, in our view, a mature and an "adult" work — "W.A.T.R.A.".
The album's cover artwork
The next action was to work on the material's visual component. The search brought us to another "congenial" man, a wonderful artist Yuri "Xninja" Nagorniy, who perfectly understood the emotional and symbolic "message" of the album, and was able to put it "on a paper".
The ideas and themes of "W.A.T.R.A."

In the theme of this work, we continued the line of man's relationship with the outer world, with nature in particular. It's by nature in all its beauty and diversity we gain inspiration. For us, the constituent part of this is to use in our creative work various ethnic instruments such as the very old (bukkehorn, harp) and more modern (tin whistle, flute chromatic, etc.).
The new album's release date
"W.A.T.R.A." comes out on August 10 this year via the Ukrainian label Noizr Productions. We hope you will come to resonance!